Category Archives: Investing
September 25, 2018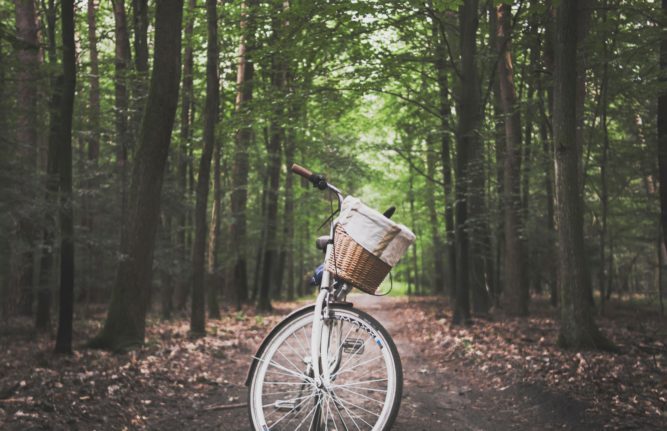 The yield curve is flattening (or growing steeper)! … Yield curve spreads are widening (or narrowing)! … The yield curve has inverted (or normalized)!
Headline-grabbing yield curve commentary somehow sounds important, doesn't it? But what is a yield curve to begin with, and what does it have to do with you and your investments?
A Tour Around the Curve
Yield curves typically depict the various yields across the range of maturities for a particular bond class. For example, Figure 1 would inform us that a U.S. Treasury bond with a 5-year maturity was yielding 2.4% annually, while a 30-year Treasury bond was yielding 3.4%.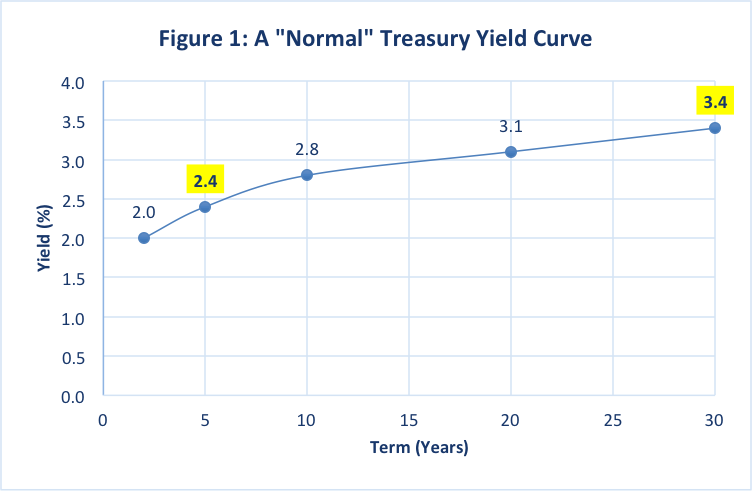 For illustration only; actual numbers may vary.
Bond class – A bond class or type is typically defined by its credit quality. Backed by the full faith of the U.S. government, U.S. Treasury yield curves are among the most frequently referenced, and often the high-quality benchmark against which other bond types are compared – such as municipal bonds, corporate bonds, or other government instruments.
Term/Maturity – The data points along the bottom X axis of a yield curve represent various terms available for a bond class. The term is the length of time you'd need to hold a bond before your loan matures and you should receive your initial investment back.
Yield – The data points along the vertical Y axis represent the interest rate, or yield to maturity currently being offered – such as 2% per year, 3% per year, and so on. The yield curve for any given bond class changes every time its yields change … which can be frequently.
Spread – The spread is the difference between the annual yields on two bond maturities. So, in Figure 1, there's a 1% spread between 5-year (2.4%) and 30-year (3.4%) Treasury bond yields.
Define "Normal"
Next, let's look at the curve itself – i.e., the line that connects the data points just discussed.
 The shape of the yield curve helps us see the relationship between various term/yield combinations available for any given bond class at any given point in time.
Just as our body temperature is optimal around 98.6°F (37°C), there's a preferred equilibrium between bond market terms and yields. "Normal" occurs when short-term bonds are yielding less than their longer-term counterparts. Under normal economic conditions, investors expect to be compensated with a term premium for taking the incremental risk of owning longer maturities. They're accepting more uncertainty about how current prices will compare to future possibilities. Conversely, they'll accept lower rates for shorter-term instruments, offering greater certainty.
At the same time, evidence suggests there's often a law of diminishing returns at play. Typically, the further out you go on the yield curve, the less extra yield is available. Thus, Figure 1 depicts a relatively normal yield curve, with a bigger jump to higher returns early in the curve (a steeper spread) and a more gradual ascent (narrower spread) as you move outward in time.
Variations on the Curve
If Figure 1 depicts a normal yield curve, what happens when things aren't so normal, which is so often the case in our fast-moving markets?
 The shape of the yield curve essentially reflects evolving investor sentiments
about unfolding economic conditions.
In short, expectations theory suggests that the yield curve reflects investor expectations of future interest rates at any given point in time. Thus, if investors in aggregate expect rates to rise (fall), the yield curve will slope upward (downward). If they expect rates to remain unchanged, it will be flat. Figure 2 depicts three different curve shapes that can result.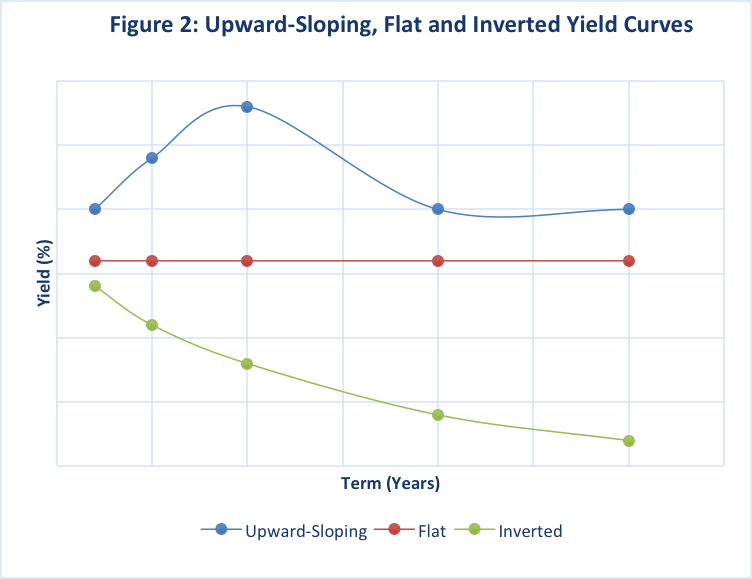 For illustration only; actual curve shapes may vary.
You, the Yield Curve and Your Investments
It's rare for the yield curve to invert, with long-term yields dropping lower than short-term. But it happens. This typically is the result of the Federal Reserve (or another country's central bank) tightening monetary policy, i.e., driving up short-term rates to fight inflation. An inverted yield curve is often followed by a recession – although not always, and not always universally.
Does this mean you should head for the hills if the yield curve inverts or takes on other "abnormal" shapes? Probably not. At least not in reaction to this single economic indicator.
As with any other data source, bond yield curves are best employed to inform and sustain your durable, evidence-based investment plans, rather than to tempt you into abandoning those plans every time bond rates make a move. Big picture, this typically means investing in bonds that offer the highest yield for the least amount of term, credit and call risk. (Call risk is realized if the bond issuer "calls" or pays off their bond before it matures, which usually forces the bond's investors to accept lower rates if they want to remain invested in the bond market.)
The yield curve is an important tool for determining how to efficiently execute this greater goal. It helps explain why we typically recommend holding only high-quality bonds, minimizing call risk, and usually striking a balanced middle ground between short-term versus long-term bonds. Similar principles apply, whether investing directly in individual bonds or via bond funds.
In short, it's fine to consider the yield curve, but it's best to look past it to the distant horizon as you invest toward your steadfast financial goals. We hope you'll be in touch if we can tell you more about how fixed income/bond investing best fits into that greater context.
August 14, 2018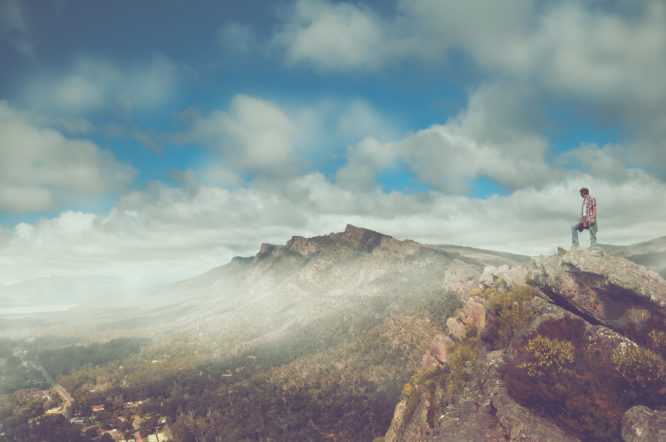 In parts I and II of our series, "An Evidence-Based Approach to Sustainable Investing," we introduced key building blocks for sustainable investing, and summarized current strategies for building them into your own portfolio. The ground we've covered so far may suffice to help you determine if and how you would like to invest more sustainably. But before we wrap, we'd like to dig a little deeper into sustainable investing today.
A Standard Challenge
First the promising news: As we touched on earlier, there already are ways to factor in Environmental, Social and Governance (ESG) ratings – here and now. Practitioners also continue to explore how impact investing (i.e., more direct involvement in corporate governance) may lead to improved outcomes for all concerned. On both fronts, we are optimistic that evidence-based ESG investing can grow increasingly relevant as it matures and melds into our existing best practices.
That said, we face a noteworthy challenge in this still-nascent field: Strong, time-tested company reporting standards remain a work in progress among ESG practitioners.
For example, "Why and How Investors Use ESG Information" suggests one of our biggest decision-making challenges is "the lack of comparability of reported information across firms." The report further notes, "qualitative comments confirm that a lack of standardization and quantification are the main obstacles to ESG data integration."
To be fair, strong company reporting standards are a challenge for any evidence-based investment approach. But it can be especially daunting when an approach is relatively new and advancing faster than the rigor of proper academic analysis requires. Let's explore three of the "standard" growing pains sustainable investing faces: building robust benchmarks, gathering consistent data and cultivating solid research.
Building Robust Benchmarks
As we described in part II, investors, advisors, and fund managers alike have been turning to ESG ratings to "score" various organizations' sustainable practices. Just as we have standard benchmarks/indexes for other purposes (such as tracking US large companies, global bonds, or emerging market real estate), providers have responded to the burgeoning interest in ESG ratings by offering a growing collection of ESG benchmarks for public consumption. Established providers include MSCI, Bloomberg, Thomson Reuters and others. There also is a plethora of relative newcomers, each offering its own approach and perspective.
Given the assortment, a company's ESG data may receive widely different "thumbs up" or "thumbs down" scores, depending on who is doing the rating, and to what aim. For example, this Wall Street Journal article explains: "The real complexity comes in the question of what counts as 'good.'" The article offers an illustration: "[The] global head of ESG research at MSCI, says the aim of its ratings is to highlight financially relevant [ESG] risks; FTSE, by contrast, is more focused on helping investors change corporate behavior."
It's not necessarily bad or wrong for different rating companies to rank the same data in various ways. Their varied opinions contribute to efficient market pricing. But it does mean you (and your advisor) will want to understand the differences among various ratings, and what they signify, so you're not inadvertently comparing your "apple" results with "orange" benchmarks.
This leads us to our next point …
Developing Data Standards
Rating agencies, fund managers and investors face a common challenge: Some of the data used to score a company's ESG activities may be more or less dependable to begin with.
Some standards exist for how and what a company should report with respect to its ESG practices. For example, as reported in "Sustainable Investing: From Niche to Normal," a CDP (Carbon Disclosure Project) is aimed at encouraging companies to report their greenhouse gas emissions; the UK requires all its listed companies to do the same. And "GRESB is an investor-driven organization of 250 members who voluntarily report on the ESG performance of real estate portfolios."
There are many other examples, and growing demand may further accelerate the movement toward more standardized reporting. But for now, ESG reporting remains mostly a voluntary endeavor. As reported in a June 27, 2018 Financial Advisor piece, "Advisors Say ESG Compliance Is Hard To Verify," Cerulli Associates surveyed more than 400 advisors and asset managers and reported that the vast majority felt challenged by "the fact that companies provide limited or selective information about their efforts to meet environmental, social and governance standards," and that "the information they are given is too subjective."
Also, "ESG" is not one thing – it's three. Not surprisingly, environmental, social and governance standards are developing at different rates, based on various demands and practicalities. As described in the aforementioned Sustainable Investing report, many environmental metrics are becoming increasingly standardized, but investors should be more cautious about social metrics, which often represent "highly qualitative issues." The authors note, "Governance is the most well-researched factor. The data has been in company filings for decades."
Some investors may also wish to incorporate or avoid other values-based characteristics in their investments – such as religious or political affiliations. For these, quantifiable reporting standards may take even longer to create, if they're created at all.
Cultivating Research Standards
There's one more avenue to explore. How do we balance an investor's desire to invest "ethically" with our fiduciary duty to advise them according to their highest financial interests?
The goal is simple enough: We'd like to provide both. Existing studies and practical applications suggest we can.
That said, we're still early in the process. By definition, it takes years, if not decades, to determine whether evidence-based theories test out in reality – through bull markets and bears; here and abroad; and across stocks, bonds and other asset classes. The reality is, evidence-based sustainable investing is too new to have experienced this optimal degree of due diligence.
For example, consider "sin" stocks versus ethical investments. Which have actually delivered better returns under what conditions, and with what risks? To date, we continue to see energetic debates and compelling evidence contributing to our understanding of these important issues. Given the level of investor interest, academics and practitioners alike are working to resolve the various riddles and create the necessary body of evidence to achieve this high standard of excellence.
As such, we will continue to collaborate with other evidence-based professionals and academics. Together, we hope to discover and deliver increasingly effective ways to incorporate sustainable investing into investors' globally diversified portfolios. We've only just begun!
At the same time, we understand that you may not want to wait decades to invest more sustainably. In fact, you may already be unwilling to invest otherwise. You deserve solid advice on how to make the most of today's existing sustainable investment solutions, come what may as the future unfolds. Whether you'd like to get started right away, or simply remain informed, we stand ready to assist. Call us anytime to continue the conversation.
July 11, 2018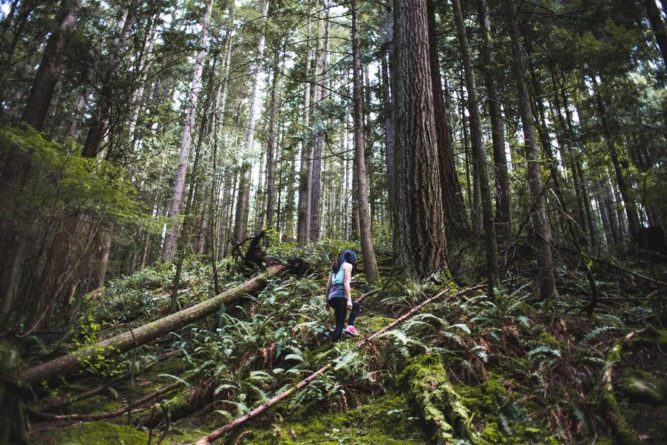 Second quarter has come and gone, along with the usual mixed bag of "what next?" news. There were the typical ugly players such as potential trade wars and rising interest rates. There were also the usual market darlings, such as this quarter's big, bold tech stocks. Each in their own way can tempt you to cringe or veer off-course.
We hope you'll avoid reacting to recent news. At the same time, we understand how hard that can sometimes be. No matter how often we're faced with uncertainty or how well we think we've prepared for it, new threats and opportunities have real ramifications in our lives; it's natural to wonder whether "this time" they should also influence our investment decisions.
The decades and volumes of robust evidence advising our approach still suggests otherwise. To best pursue your personal goals, we must continue to consider the latest news within the greater context of how global capital markets have delivered their eventual returns.
Our rational selves understand this. But, as Georgetown University finance professor James Angel observed in a recent Wall Street Journal article, "One of the open secrets of the financial-services world is that we're also in the entertainment and gaming industry."
Building and maintaining a globally diversified portfolio is usually neither fun nor entertaining. It's mostly just boring to stick to a well-crafted investment portfolio, year in, year out.
Here's a fun stat to remember next time you're tempted to bet against the proverbial house by guessing where the market is headed next (emphasis ours): "Since 1928, the [U.S.] stock market has risen on 54% of days, 58% of months and 73% of years."
This comes from the same WSJ article, along with this important observation: "The distinction between an investment and a gamble lies in the odds of success."
Our goal is to keep those investment odds in your favor. It may not be as entertaining, nor is success guaranteed, but all evidence suggests you're best off investing in the house and its expected favorable outcomes, rather than placing concentrated bets on every hand played.
As always, please be in touch any time we can help you explore current market returns as they relate to your financial goals – or with anything else that may be on your mind. One sure bet you can make: We're always happy to hear from you!
June 27, 2018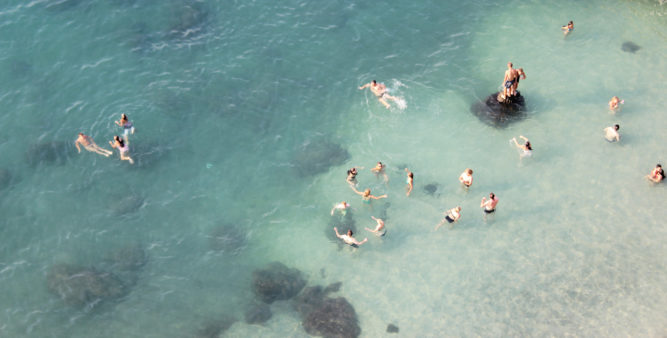 As we touched on in our last piece, "Setting the Sustainable Stage," degrees and kinds of "doing good" are often in the eye of the beholder. How do we measure something that is sometimes so subjective? As described in "Why and How Investors Use ESG Information" (a University of Oxford/Harvard University paper to be published in the Financial Analysts Journal), academics and practitioners alike typically turn to an organization's Environmental, Social and Governance (ESG) ratings to try to quantify levels of sustainability.
Again, precise labels may vary in the various literature, but following are some of the ways the industry applies ESG ratings into sustainable investment strategies.
Active ownership – Employing "shareholder power" to try to actively improve a company's ESG performance (engaging senior management, submitting proposals, proxy voting, etc.)
Negative screening – Explicitly excluding firms with low ESG ratings ("This company is too 'wicked' to belong in my portfolio.")
Positive screening – Explicitly including firms with high ESG ratings ("This company is at least 'good enough' to belong in my portfolio.")
Inclusion strategies – Integrating ESG data into existing evidence-based analyses, melding the information into a systematic, total portfolio management strategy
Investors currently have access to a range of investment solutions that incorporate these and other strategies to varying degrees.
ESG Investing – ESG investors are more likely to emphasize inclusion strategies, which complement a general evidence-based investment approach. In other words, evidence-based ESG funds should help investors continue to incorporate sound portfolio construction principles (such as asset allocation, global diversification and cost-control), and minimize less-efficient tactics (such as picking or avoiding specific stocks or sectors based on forecasts or popular appeal). ESG fund managers also may engage in active ownership on behalf of their shareholders.
Socially Responsible Investing (SRI) Investing – SRI funds are more likely to use screening strategies that involve making security- or sector-specific judgments or forecasts.
Impact Investing – Impact investors are on a mission to not just invest in a venture, but to become an altruistic partner in it. Say, for example, you donate to a GoFundMe® campaign seeking to create an eco-friendly alternative to plastic water bottles. You've just become an impact investor. On a grander scale, high-net-worth investors may take on private equity or debt structures with an eye toward making an impact with their funding.
Finding a Sustainable Fit
None of these possibilities are inherently right or wrong. Which (if any) are right for you? As proposed in this innovative paper, "Sustainable Investing: From Niche to Normal," it depends whether you are more value– or values-driven. The paper explains that value-driven investors "put financial return first, BEFORE any other issues are addressed," while values-driven investors will "consider financial return AFTER the investors' values have been satisfied."
In this context:
ESG investing focuses more heavily on value – i.e., financial outcomes – factoring in ESG ratings when the evidence suggests they might improve on expected returns (or at least not detract from them).
Impact investing seeks to fund a cause with less regard for how the "investment" works out. Hint: If you're mostly in it for the money, you might not be in the right place.
SRI investing falls somewhere in between. You don't want to lose your shirt, but you may not mind giving up some expected return if you expect it to do a lot of good.
Sustainable investment strategies aren't mutually exclusive either. For example, you could incorporate ESG investing into the core of your evidence-based portfolio, while participating in impact investing with some of your discretionary income.
Next Up: The Lay of the Sustainable Land
Before sustainable investing existed, investors who were philanthropically inclined had little choice but to seek their financial returns through traditional investing, while separately expressing their personal values by donating to their charities of choice.
Today, solutions are coming into focus for those who would like to begin combining these two, formerly disparate interests. That said, while evidence-based ESG investing holds much promise, it remains a relatively new field of study. Challenges and opportunities abound as we seek to create robust data and enhanced analyses to guide the way – in theory and in practice.
In our next piece, we'll take you on a fascinating tour of the evolving landscape.
June 20, 2018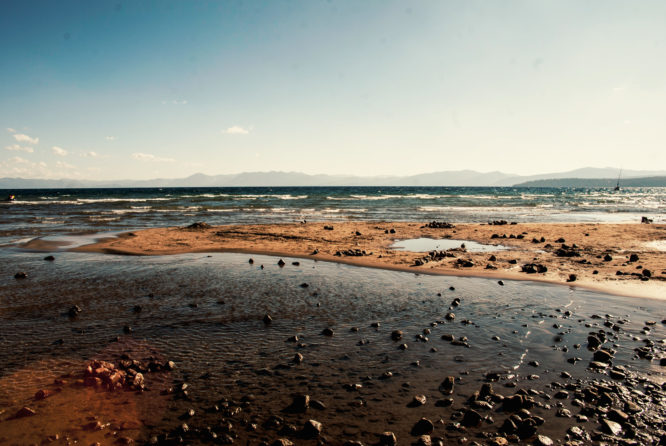 If there's one trait most of us share, it's a desire to make the world a better place. No wonder there's so much interest in sustainable investing. Who wouldn't want to try to earn decent if not stellar returns, while contributing – or at least causing less harm – to the greater good?
But what is the greater good? What is a decent return? How do we make it all happen? Financial history leaves us optimistic that, over time, best practices are likely to emerge out of the bubbling brew that is our capital markets. For those who would rather not wait, it can be hard to identify a clear path forward. As a relatively new and fast-growing field, sustainable investing is crowded with opportunities and challenges, perspectives and priorities, strategies and terminology.
Let's bring today's sustainable investing into tighter focus.
Sensible Sustainability
As we grapple with integrating subjective values into objective financial planning, we are inspired by "Doing Good Better" author William MacAskill: "I believe that by combining the heart and the head – by applying data and reason to altruistic acts – we can turn our good intentions into astonishingly good outcomes."
Let's be clear: We are NOT here to direct your personal moral compass. Rather, we'd like to offer objective insights, rooted in our evidence-based investment approach. An evidence-based outlook helps confirm when a theory appears to be robust in reality. It also suggests when a promising plan may not pencil out as hoped for – no matter how well-intended it may be.
Equipped with solid evidence in an often emotionally charged arena, you will be better positioned to make the rational choices and informed decisions that best fit you, your heartfelt values, and your financial goals.
A Tangle of Terminology
First things first. While you're likely to find various terms sharing similar definitions in this crowded field, we'll refer to the broad subject as "sustainable investing."
Call it what you will, recent research has found that different investors embrace sustainable investing for different reasons. Your own priorities govern the type of sustainable investing that should best align with your personal goals:
Financial Priorities – Some investors may not be as interested in investing "morally," but may do so anyway if they expect to earn higher returns from stronger-performing companies.
Impact Priorities – Other investors may not care whether sustainable investing brings higher expected returns, as long as they can shun "bad" companies and/or invest in "good" ones.
Blended Priorities – Most investors fall somewhere in between: They want to earn solid returns (or at least not lose money) while investing in principled ways.
Next Up: Degrees of "Doing Good"
Today's piece sets the sustainable stage. We introduced a few key terms and summarized how sustainable investment priorities may vary depending on individual goals. In our next piece, we'll explore how to quantify something as potentially subjective as "doing good." We'll also share some ideas on how to invest in ways that best balance your financial goals with your personal values.
Until then … be good.
June 4, 2018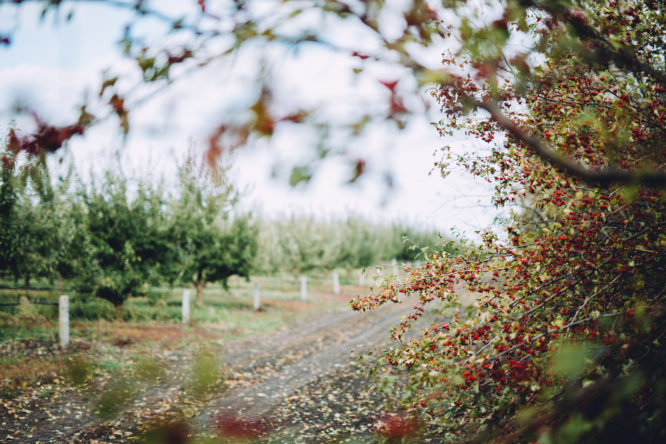 Here at Hiley Hunt, we try to keep the financial jargon to a minimum. But even where we may succeed, you're likely to encounter references elsewhere that can turn valuable information into mumbo-jumbo yet to be translated.
Consider us your interpreter. Today, we'll explore correlation, and why it matters to investing.
A Quick Take: Correlation Helps People Invest More Efficiently

Expressed as a number between –1.0 and +1.0, correlation quantifies whether, and by how much two holdings have behaved differently or alike in various markets. If we can identify holdings with weak or no expected correlation among one another, we can combine these diverse "pieces" (individual investments) into a greater "whole" (an investment portfolio), to help investors better weather the market's many moods.
Correlation, Defined
As suggested above, correlation is more than just a quality; it's also a quantity – a measurement – offering two important insights along a spectrum of possibilities between –1.0 and +1.0:
Correlation can be positive or negative, which tells us whether two correlated subjects are behaving similar to or opposite of one another.
Correlation can be strong or weak (or high/low), which tells us how powerful the similar or opposite behavior has been.

Correlation, Applied
If you've been around the investment block, you've probably heard about the benefits of diversification, or owning many, as well as many different kinds of holdings. A well-diversified portfolio helps you invest more efficiently and effectively over time. Diversification also offers a smoother ride, which helps you better stay on course toward your personal financial goals.
But in a world of nearly infinite possibilities, how do we:
Compare existing funds – If one fund is expected to perform a certain way according to its averages, and another fund is supposed to perform differently according to its own averages, how do you know if they're really performing differently as expected?
Compare new factors – What about when a researcher claims they've found a new factor, or source of expected returns? As this University of Chicago paper explains, "factors are being discovered almost as quickly as they can be packaged and sold to the waiting public." How do we determine which are actually worth considering out of the hundreds proposed?
Compare one portfolio to another – Even perfectly good factors don't always fit well together. You want factors that are not only strong on their own, but that are expected to create the strongest possible total portfolio once they're combined.
Correlation is the answer to these and other portfolio analysis challenges. By quantifying and comparing the behaviors and relationships found among various funds, factors and portfolios, we can better determine which combinations are expected to produce optimal outcomes over time.
Correlation, Calculated
Fortunately, as an investor, you don't necessarily need to know how to precisely calculate correlations. But it's useful to know what correlation measurements mean when you see them.
Strong (high), positive correlation tells us that two investments seem to be playing a highly similar role; when that's the case, you may not need to hold both of them.
Strong (high), negative correlation offers the most diversification, but it's hard to find. Prone as they are to herd mentality, most holdings follow general trends at least a little.
Weak (low) or no (zero) correlation is thus the preferred relationship we typically seek between and among the funds we use to build a diversified portfolio.
Here's a simplified example of appealing correlation among three holdings. Each holding exhibits a satisfying level of weak or no correlation with the other two. (A holding will always have perfect positive correlation with itself, thus the +1.0 measurements.)
Appealing Correlation
| | | | |
| --- | --- | --- | --- |
| | Holding 1 | Holding 2 | Holding 3 |
| Holding 1 | +1.0 | +0.3 | –0.2 |
| Holding 2 | +0.3 | +1.0 | 0.0 |
| Holding 3 | –0.2 | 0.0 | +1.0 |
What if your correlations look more like the trio below? Because all correlations here are strongly positive, you might reconsider whether these holdings are sufficiently diversified to make the most of varied market conditions and sources of expected returns.
Too Much Correlation
| | | | |
| --- | --- | --- | --- |
| | Holding 1 | Holding 2 | Holding 3 |
| Holding 1 | +1.0 | +0.8 | +0.9 |
| Holding 2 | +0.8 | +1.0 | +0.7 |
| Holding 3 | +0.9 | +0.7 | +1.0 |
Correlation, Clarified
It's worth adding a couple more clarifying points before we wrap:
Comparing Investments – First, the correlation between two holdings is not calculated by directly comparing the returns of each holding. Instead, we compare how each holding's returns move up and down relative to its own average returns. In "Reducing the Risk of Black Swans," co-authors Larry Swedroe and Kevin Grogan illustrate how this works:
"A positive correlation exists between two assets when one asset produces above-average returns (relative to its average) and the other asset tends to also produce above-average returns (relative to its average). The stronger the tendency, the closer the correlation will be to +1."
In other words, two investments may seem quite different at a glance. But if you compare them to their own usual performance, and they both tend to sink or soar in reaction to the same market conditions, they are unlikely to offer strong diversification benefits if you pair them together.
Going the Distance – Also, correlation is not a "set it and forget it" number. For example, two funds may usually exhibit weak correlation, but this can shift if a bear or bull market roars in and wreaks havoc on business as usual. In short, solid analysis calls for studying correlation data across multiple markets and over time, to better understand what to expect during various market conditions. This is another reason to take care when adding new factors to your portfolio. Even if a new opportunity seems promising, you may want to wait and see how it performs over time and around the globe before you buy into the latest popular find.
Correlation, Concluded
Heeding correlation data is a lot like having a full line-up on your favorite sports team. If each player on the roster adds a distinct, useful and well-played talent to the mix, odds are, your team will go far. Similarly, your investment portfolio is best built from a global "team" of distinct factors, or sources of returns. A winning approach combines quality components that exhibit weak or no correlation among or between them across varied, long-term market conditions.
Let us know if we can help you use correlation to enhance your own investment experience.
April 4, 2018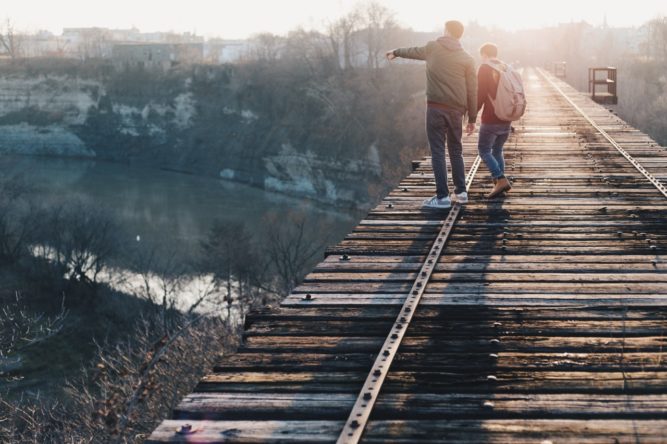 If you were a member of the popular press, you'd probably be happy with 2018's first quarter performance. At last – some volatility-fueling news in early February, with plenty of enticing "largest," "fastest," and "worst" market superlatives to savor after a long, languid lull.
As usual, there are plenty of potential culprits to point to among current events: global trade wars heating up, the arrival of quantitative tightening (rising interest rates), troubles in tech-land over data privacy concerns, ongoing Brexit talks, and some interesting events over in the Koreas. At quarter-end, one hopeful journalist asked, "Is the Bear Market Here Yet?" Another observed: "[T]he number of [Dow Jones Industrial Average] sessions with a 1% move so far in 2018 are more than double 2017's tally, and it isn't even April."
Has the coverage left you wondering about your investments? Most markets have been steaming ahead so well for so long, even a modest misstep may have you questioning whether you should "do something," in case the ride gets rougher still.
If we've done our job of preparing you and your portfolio for market jitters, you might be able to cite back to us why you've already done all you can do to manage the volatility, and why it's ultimately expected to be good news for evidence-based investors anyway. Remember, if there were never any real market risk, you couldn't expect extra returns for your risk tolerance.
That said, you may have forgotten – or never experienced – how awful the last round of extreme volatility felt during the Great Recession. Insights from behavioral finance tell us that our brain's ingrained biases cause us to gloss over those painful times, and panic all over again when they recur, long before our rational resolve has time to kick in.
A constructive way to think about recent market performance is as a telling preview of what the next, worse market downturn might feel like. How are you doing so far, and how can we help?
If you noticed the news, but you're okay with where you're at, that's great. If the volatility is bothering you, let's talk; we may be able to ease your angst. If you continue to struggle with whether you made the right decisions during quieter markets, let's plan a rational shift to better reflect your real risk tolerances and cash-flow requirements. Not only is your peace of mind at least as important as the dollars in your account, you could end up worse off if you've taken on more risk than you can bear in pursuit of higher expected returns.
As Wall Street Journal columnist Jason Zweig said during the February dip: "A happy few investors … may have long-term thinking built into them by nature. The rest of us have to cultivate it by nurture." We couldn't agree more, and we consider it our duty and privilege to advise you accordingly and to help nurture that long-term thinking.
March 26, 2018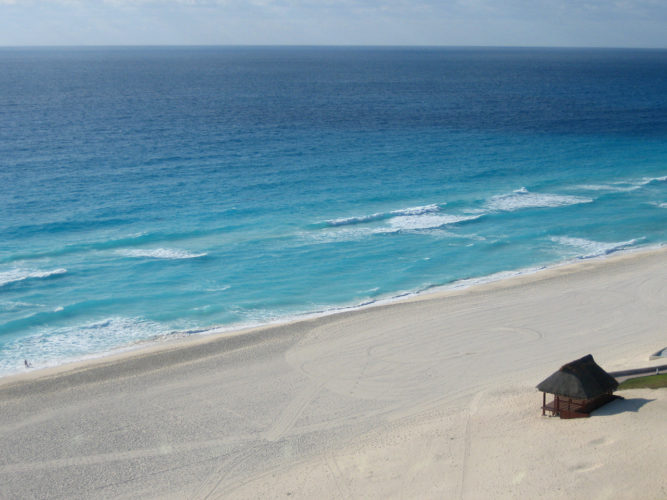 "This is a test; this is only a test. Had this been an actual emergency …"
The truth is, the markets are not tanking as we write this piece. In fact, overall market temperatures have been so mild for so long, many newer investors have yet to weather a perfect market storm. Even if you have, you may have forgotten how panic-inducing those times can be.
This worries us. Experience and evidence alike show us how severely bear markets test investor resolve, sabotage otherwise solid plans, and just plain hurt. We've also seen how damaging it can be to act on rash fear rather than rational resolve during market downturns.
So let's pretend, shall we? Just as we prepare for other emergencies by practicing how to avoid deadly blunders in the heat of the moment, here are 10 timely actions you can take when financial markets are tanking … and, frankly, even when they're not.
Don't panic (or pretend not to). It's easy to believe you're immune from panic when the financial sun is shining, but it's hard to avoid indulging in it during a crisis. If you're entertaining seemingly logical excuses to bail out during a steep or sustained market downturn, remember: It's highly likely your behavioral biases are doing the talking. Even if you only pretend to be calm, that's fine, as long as it prevents you from acting on your fears.
"Every time someone says, 'There is a lot of cash on the sidelines,' a tiny part of my soul dies. There are no sidelines." – Cliff Asness, AQR Capital Management

Redirect your energy. No matter how logical it may be to sit on your hands during market downturns, your "fight or flight" instincts can trick you into acting anyway. Fortunately, there are productive moves you can make instead – such as all 10 actions here – to satisfy the itch to act without overhauling your investments at potentially the worst possible time.
"My advice to a prospective active do-it-yourself investor is to learn to golf. You'll get a little exercise, some fresh air and time with your friends. Sure, green fees can be steep, but not as steep as the hit your portfolio will take if you become an active do-it-yourself investor." – Terrance Odean, behavioral finance professor

Remember the evidence. One way to ignore your self-doubts during market crises is to heed what decades of practical and academic evidence have taught us about investing: Capital markets' long-term trajectories have been upward. Thus, if you sell when markets are down, you're far more likely to lock in permanent losses than come out ahead.
"Do the math. Expect catastrophes. Whatever happens, stay the course." – William Bernstein, MD, PhD, financial theorist and neurologist
Manage your exposure to breaking news. There's a difference between following current events versus fixating on them. In today's multitasking, multimedia world, it's easier than ever to be inundated by late-breaking news. When you become mired in the minutiae, it's hard to retain your long-term perspective.
"Choosing what to ignore – turning off constant market updates, tuning out pundits purveying the latest Armageddon – is critical to maintaining a long-term focus." – Jason Zweig, The Wall Street Journal

Revisit your carefully crafted investment plans (or make some). Even if you yearn to go by gut feel during a financial crisis, remember: You promised yourself you wouldn't do that. When did you promise? When you planned your personalized investment portfolio, carefully allocated to various sources of expected returns, globally diversified to dampen the risks involved, and sensibly executed with low-cost funds managed in an evidence-based manner. What if you've not yet made these sorts of plans or established this kind of portfolio? Then these are actions we encourage you to take at your earliest convenience.
"The key to successful investing is to get the plan right and then stick to it. This means acting just like the lowly postage stamp that does one thing but does it well. It sticks to its letter until it reaches its destination. The investors' job is to stick to their well thought out plan (if they have one) until they reach their destination. And if they don't have a plan, write one immediately." – Larry Swedroe, financial author
Reconsider your risk tolerance (but don't act on it just yet). When you craft a personalized investment portfolio, you also commit to accepting a measure of market risk in exchange for those expected market returns. Unfortunately, during quiet times, it's easy to overestimate how much risk you can stomach. If you discover you're miserable to the point of breaking during even modest market declines, you may need to re-think your investment plans. Start planning for prudent portfolio adjustments, preferably working with an objective advisor to help you implement them judiciously over time.
"Our aversion to leverage has dampened our returns over the years. But Charlie [Munger] and I sleep well. Both of us believe it is insane to risk what you have and need in order to obtain what you don't need." – Warren Buffett, Berkshire Hathaway

Double down on your risk exposure – if you're able. If, on the other hand, you discover you've got nerves of steel, market downturns can be opportunities to buy more of the depressed (low-price) holdings that fit into your long-range investment plan. You can do this with new money, or by rebalancing what you've got (selling appreciated assets to buy the underdogs). This is not for the timid! You're buying holdings other investors are fleeing in droves. But if you're able to do this and hold tight, you're especially well-positioned to make the most of the expected recovery.
"Pick your risk exposure, and then diversify the hell out of it." – Eugene Fama, Nobel  laureate economist

Tax-loss harvest. Depending on market conditions as well as your own circumstances, you may be able to use tax-loss harvesting to turn financial lemons into lemonade during market downturns. A successful tax-loss harvest lowers your tax bill without substantially altering or impacting your long-term investment outcomes. This action is not without its tricks and traps, however, so it's best done in alliance with a financial professional who is well-versed in navigating the challenges involved.
"In investing, you get what you don't pay for." – John  C. Bogle, Vanguard founder

Revisit this article. There is no better time to re-read this article than when today's "safety drill" is no longer an exercise but a real event. Maybe it will take your mind off the barrage of breaking news.
"We'd never buy a shirt for full price then be O.K. returning it in exchange for the sale price. 'Scary' markets convince people this unequal exchange makes sense." – Carl Richards, Behavior Gap

Talk to us. We don't know when. We don't know how severe it will be, or how long it will last. But sooner or later, we expect the markets will tank again for a while, just as we also expect they'll eventually recover and continue upward. We hope today's drill will help you be better prepared for "next time." We also hope you'll be in touch if we can help. After all, there's never a bad time to receive good advice.
"In the old legend the wise men finally boiled down the history of mortal affairs into the single phrase, 'This too will pass.' Confronted with a like challenge to distill the secret of sound investment into three words, we venture the motto, MARGIN OF SAFETY."
– Benjamin Graham, economist, "father of value investing"
March 21, 2018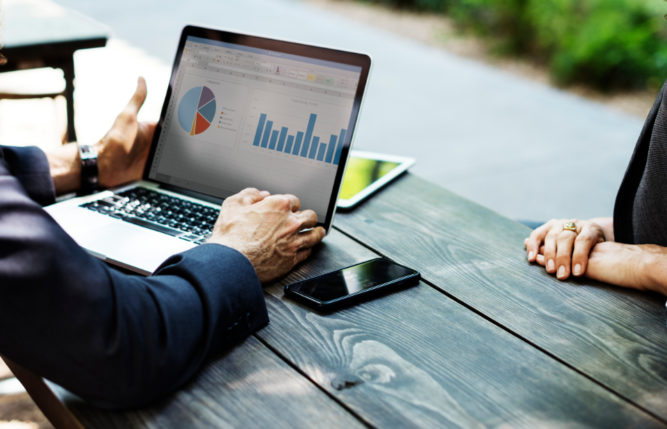 After nearly a decade of leaving the federal funds rate at zero percent, the time finally came on December 16, 2015: The U.S. Federal Reserve (the Fed) raised the federal funds rate by 0.25 percent. Because it was the first rate increase since June 2006, it was reported as "a historic moment." Since then, the Fed has made several modest increases. You can find the most recent rate changes reported here.
But what do these rate changes mean to your financial well-being? Is there anything you should "do" to your investment portfolio when they occur? As is nearly always the case for economic events over which we have no control, we typically recommend that you remain informed – but that you act only on factors you can expect to manage within your personal investing.
In that context, let's take a moment to share some insights about the Federal Reserve funds rate.
What Is the Federal Reserve?
As described on its consumer education site, the Federal Reserve is the central bank of the U.S. It was created by Congress as an independent government agency in 1913 "to provide the nation with a safer, more flexible, and more stable monetary and financial system." Jerome Powell is its current board of governors' chair. Before Powell, the chairs were Janet Yellen, Ben Bernanke and Alan Greenspan.
Powell and his board of governors are based in Washington, DC. They also oversee 12 regional reserve branches across the country and are tasked with three main roles:
Monetary Policy – Promoting "maximum employment, stable prices and moderate long-term interest rates"
Supervision and Regulation – Overseeing U.S. banks and gathering information to understand financial industry trends
Financial Services – Serving as a bank for U.S. banks as well as for the country's monetary operations – issuing currency, managing the government's bank accounts, borrowing money in the form of U.S. Savings bonds and more
What Is Going On?
While you wouldn't want to run a country without all three of these roles in place, monetary policy is where much of the headline-grabbing action is often found. The Fed continuously grapples with when, by how much, and how often it should raise the federal funds rate.
The Federal Reserve sets monetary policy through its Federal Open Market Committee (FOMC), which includes the Fed's board members and a rotating representation of Reserve Bank presidents.
The FOMC holds eight regularly scheduled annual meetings to consider what actions to take (if any). In the days before those meetings, the financial press often reports on expected outcomes as if they were a done deal, and markets often respond accordingly. In reality, until those meetings have taken place, nobody knows what their outcome will be.
Still, while the FOMC has a number of ways to seek balance among the competing demands of the economy, raising or lowering the federal funds rate has long been one of its more powerful management tools. So, it's no wonder the question becomes the media's central focus whenever the FOMC is set to meet. It's also no wonder that investors are bombarded with the usual volume of conflicting coverage on what is and is not at stake, and what may or may not come to pass. Depending on who you heed, higher federal funds rates could be anything from a panacea, to a global scourge, to a non-event in the markets.
What Does All This Mean to You and Your Money?
First, it helps to understand that there is an intricate interplay between developed nations' monetary policies, global interest rates and the markets in general. Anyone who claims to know exactly what will happen in one arena when we pull a lever in another had best be able to present a functioning crystal ball if he or she is to be believed.
To cite one example, consider this March 2018 column by Wall Street Journal columnist Jason Zweig, in which he chastises various brokers for their still-anemic sweep account yields despite rising interest rates: "The Federal Reserve has driven short-term interest rates up a full percentage point since late 2016; one-month Treasury bills were yielding 1.6% this week. But you'd never know any of that from looking at the returns on the cash in your brokerage account."
This illustration also demonstrates that the only interest rate the Fed has direct control over is the U.S. federal funds rate, which is the rate at which depository institutions (mostly banks), lend and borrow overnight funds with one another.
The resulting cash flow is the grease that turns the wheels of the country's federal banking system, so it's an important factor. But as Zweig illustrates, that doesn't mean that there is a consistent cause-and-effect relationship between federal funds rate movements and other yields-based financial instruments such as U.S. or international fixed income funds, interest-earning accounts, mortgages, credit cards and so on.
A separate Wall Street Journal article substantiates: "Think all rates would tick a little higher as the Fed tightens? That isn't how it works. … The impacts will be uneven. Some borrowing costs are likely to rise closely in sync with short-term rates, but others won't."
Why is this so? It's partly the result of those multiple global factors at play, with the Fed's actions representing only one among many others. A post by "The Grumpy Economist" John Cochrane even suggests that the Fed's actions may be one of the less-significant factors involved: "Lots of deposits (saving) and a dearth of demand for investment (borrowing) drives (real) interest rates down, and there is not a whole lot the Fed can do about that. Except to see the parade going by, grab a flag, jump in front and pretend to be in charge."
What Should You Do?  
Whenever you're wondering how best to respond to a shifting landscape such as that wrought by rising (or falling) interest rates and any related repercussions, begin by asking yourself: What can I do about it?
Unless you are Fed chair Jerome Powell, there is probably nothing you can do to personally influence what the Feds are going to decide about ongoing interest rates, or how the global markets are going to respond to the news. But there is plenty you can do to help or harm your own wealth interests.
First, if you already have a solid financial plan in place, we do not recommend abandoning it in rash reaction to unfolding news. If, on the other hand, you do not yet have a well-built plan and portfolio to guide the way, what are you waiting for? Personalized financial planning is a good idea in all environments.
Next, recognize that rising or falling interest rates can impact many facets of your wealth: saving, investing, spending and debt. A conversation with a wealth manager is one way you can position yourself to make the most of multi-factored influences in unfolding economic news.
Together and through varied interest rate climates, we can help put these and many other worldwide events into the context they deserve, so you can make informed judgments about what they mean to your own interests. The goal is to establish practical ways to manage your debt; wise ways to save and invest; and sensible ways to spend, before and in retirement.
These are the factors that matter the most in your life, and over which you can exercise the most control – for better or for worse. Give us a call today if we can help make things better for you.
January 31, 2018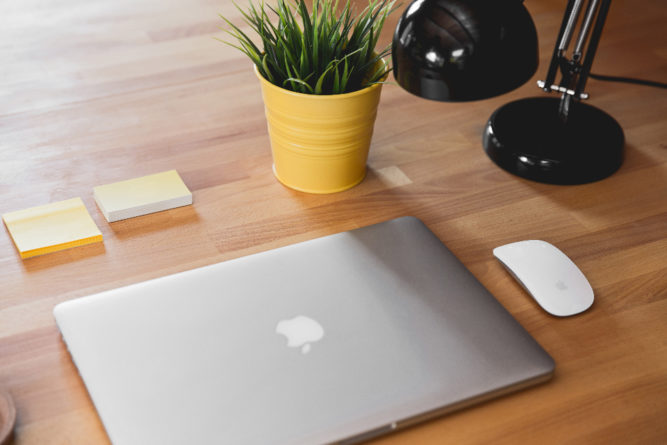 If there is a universal investment ideal, it is this: Every investor wants to buy low and sell high. What if we told you there is a disciplined process for doing just that, and staying on track toward your personal goals while you're at it? Guess what? There is. It's called rebalancing.
Rebalancing: How It Works
Imagine it's the first day of your investment experience. As you create your new portfolio, it's best if you do so according to a personalized plan that prescribes how much weight you want to give to each asset class. So much to stocks, so much to bonds … and so on. Assigning these weights is called asset allocation.
Then time passes. As the markets shift around, your investments stray from their original allocations. That means you're no longer invested according to plan, even if you've done nothing at all; you're now taking on higher or lower market risks and expected rewards than you originally intended. Unless your plans have changed, your portfolio needs some attention.
This is what rebalancing is for: to shift your assets back to their intended, long-term allocations.
A Rebalancing Illustration
To illustrate, imagine you (or your advisor) has planned for your portfolio to be exposed to the stock and bond markets in a 50/50 mix. If stocks outperform bonds, you end up with too many stocks relative to bonds, until you're no longer at your intended, balanced blend. To rebalance your portfolio, you can sell some of the now-overweight stocks, and use the proceeds to buy bonds that have become underrepresented, until you're back at or near your desired mix. Another strategy is to use any new money you are adding to your portfolio anyway, to buy more of whatever is underweight at the time.
Either way, did you catch what just happened? Not only are you keeping your portfolio on track toward your goals, but you're buying low (underweight holdings) and selling high (overweight holdings). Better yet, the trades are not a matter of random guesswork or emotional reactions. The feat is accomplished according to your carefully crafted, customized plan.
Portfolio Balancing: A Closer Look
In reality, rebalancing is more complicated, because asset allocation is completed on several levels. First, we suggest balancing your stocks versus bonds, reflecting your need to take on market risk in exchange for expected returns. Then we typically divide these assets among stock and bond subcategories, again according to your unique financial goals. For example, you can assign percentages of your stocks to small- vs. large-company and value vs. growth firms, and further divide these among international, U.S., and/or emerging markets.
One reason for these relatively precise allocations is to maximize your exposure to the right amount of expected market premiums for your personal goals, while minimizing the market risks involved by diversifying those risks around the globe and across sources of returns that don't always move in tandem with one another. We are guided by these tenets of evidence-based investing.
Striking a Rebalancing Balance
Rebalancing using evidence-based investment strategies is integral to helping you succeed as an investor. But like any power tool, it should be used with care and understanding.
It's scary to do in real time. Everyone understands the logic of buying low and selling high. But when it's time to rebalance, your emotions make it easier said than done. To illustrate, consider these real-life scenarios.
When markets are down: Bad times in the market can represent good times for rebalancing. But that means you must sell some of your assets that have been doing okay and buy the unpopular ones. The Great Recession of 2007–2009 is a good example. To rebalance then, you had to sell some of your safe-harbor holdings and buy stocks, even as popular opinion was screaming that stocks were dead. Of course history has shown otherwise; those who did rebalance were best positioned to capture available returns during the subsequent recovery. But at the time, it represented a huge leap of faith in the academic evidence indicating that our capital markets would probably prevail.
When markets are up. An exuberant market can be another rebalancing opportunity – and another challenge – as you must sell some of your high flyers (selling high) and rebalance into the lonesome losers (buying low). At the time, this can feel counterintuitive. But disciplined rebalancing offers a rational approach to securing some of your past gains, managing your future risk exposure, and remaining invested as planned, for capturing future expected gains over the long-run.
Costs must be considered. Besides combatting your emotions, there are practical concerns. If trading were free, you could rebalance your portfolio daily with precision. In reality, trading incurs fees and potential tax liabilities. To achieve a reasonable middle ground, it's best to have guidelines for when and how to cost-effectively rebalance. If you'd like to know more, we're happy to discuss the guidelines we employ for our own rebalancing strategies.
The Rebalancing Take-Home
Rebalancing using evidence-based investment strategies makes a great deal of sense once you understand the basics. It offers objective guidelines and a clear process to help you remain on course toward your personal goals in rocky markets. It ensures you are buying low and selling high along the way. What's not to like about that?
At the same time, rebalancing your globally diversified portfolio requires informed management, to ensure it's being integrated consistently and cost effectively. An objective advisor also can help prevent your emotions from interfering with your reason as you implement a rebalancing plan. Helping clients periodically employ efficient portfolio rebalancing is another way we seek to add value to the investment experience.